Rachel Livia Elizondo McLish (born June 21, 1955) is an American female bodybuilding champion. McLish was the winner of the first Ms. Olympia title, held in 1980. She is one of bodybuilding's most recognizable personalities. In January 1999, she was inducted into the IFBB Hall of Fame.[1]
Competition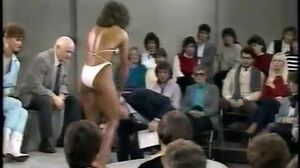 In 1980, McLish won the inaugural United States Championships, as well as beating Auby Paulick to win that year's first-ever IFBB Ms. Olympia contest. After her 1980 Olympia win, no woman appeared on more magazine covers for the next five years. She got sponsored by Dynamics Health Equipment Manufacturing Corporation. These breakthrough victories, together with her visual appeal, brought women's bodybuilding a further rush of media attention, which had been jump-started into action by Lisa Lyon.[1][2]
In a competitive career that spanned only four years, McLish proved a resilient force, never placing lower than third in any contest she entered. In 1981, she lost her Ms. Olympia title to Kike Elomaa, because her physique was not as defined as usual. At the 1982 Ms. Olympia she beat Carla Dunlap to reclaim her title. Both Paulick and Dunlap brought more muscle than McLish in those respective contests, but neither could match McLish's overall appeal. Dunlap defeated her in the 1983 Caesar's World Cup contest. She finished a controversial second behind Cory Everson in the 1984 Ms. Olympia. As quoted by several magazines covering the event, some competitors expressed surprise at McLish's high placement because she didn't carry the muscle mass carried by many of the top women. Though Dunlap, who finished fifth, was the defending Ms. Olympia, the cover of the March 1985 Strength Training for Beauty's March 1985 cover declared "Cory dethrones Rachel."[1][2] After finishing second at the 1984 IFBB Ms. Olympia, McLish retired from competitive bodybuilding.[1][2]
See also
References