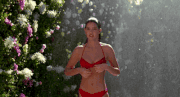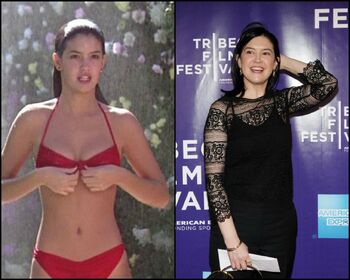 Phoebe Cates was discovered during her modeling career when she was trying to get established at the time.
Background
In the early 1980s, Cates shared an apartment in Greenwich Village with her then boyfriend Stavros Merjos. She met him in 1979 after she went to her first night at Studio 54 with family friend Andy Warhol.[1]
In 1983, during her audition for a role (awarded to Meg Tilly) in The Big Chill, Cates met actor Kevin Kline. They were both dating other people at the time, but became romantically involved two years later. In 1989, they married, and she changed her name to Phoebe Cates Kline. The Klines moved to the Upper East Side of Manhattan in New York across Fifth Avenue from Central Park where they raised two children in the 1990s.[1]
Actress
Cates appears in the iconic scene of Fast Times at Ridgemont High, where Judge Reinhold's character take matters into his own hands— and she walks in and catches him. Her girl next door looks got her parts in several other movies including a memorable role in Gremlins.[2]
References