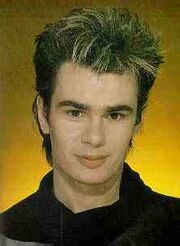 Nicholas David Kershaw (known as Nik Kershaw, born 1 March 1958) is an English singer and songwriter and is one of the Most succesfull 80's singer's.
Carrer in the 80's
In 1984, his first album, Human Racing was released and became a major success, it reached Number 4 in UK Singles Chart. And "I won't let the sun go down on me" reached Number 2 in the UK.
The second album The Riddle, and was another major success, and it went Platium. The Riddle and Wide boy were the most successful songs of the album. The same year Radio Musicola was released, but was just a little success. In 1989 The Works was released, but still with little success.
Most Popular Song's
Weblinks