The McNugget is a Chicken McNugget that was a popular McDonald's menu item by 1985. The Chicken McNugget is a small piece of processed chicken meat that is fried in batter and flash frozen, then shipped out and sold at McDonald's restaurants.[1]
Origins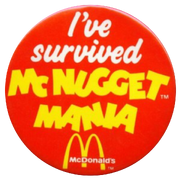 The Chicken McNugget was introduced in 1983 with support from the McNugget Mania campaign. McDonald's first Executive Chef Rene Arend created Chicken McNuggets in 1979. "The McNuggets were so well received that every franchise wanted them", said Arend in a 2009 interview. "There wasn't a system to supply enough chicken".[2] Supply problems were solved by 1983, and Chicken McNuggets became available nationwide.[3]
References
Community content is available under
CC-BY-SA
unless otherwise noted.