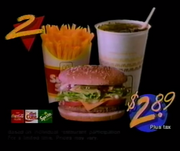 The McDLT was a burger meal that was sold at McDonald's restaurants in 1988, advertised as a healthier and better quality choice.
Good time. Great taste
The hamburger was served in an open Styrofoam container, with the bottom bun and meat on one half (served hot), and the bun with the lettuce and tomato on the other half (served cold). After receiving your tray, you would then have to prepare the burger yourself. The McDLT was short lived, and considered a failure.[1]
References
Community content is available under
CC-BY-SA
unless otherwise noted.