Jurassic World: Dominion Dominates Fandom Wikis - The Loop
Play Sound
1981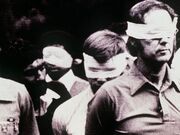 Jan 20—President Ronald Reagan completes his 20‑minute inaugural address after being sworn in as President of the United States.[1]
52 American hostages, from the Iran hostage crisis, were then released to U.S. personnel. They were flown from Iran to Algeria as a symbolic gesture of appreciation for the Algerian government's supposed help in resolving the crisis[1] under Algiers Accords, which involved unfreezing Iranian assets.[2]
The releasing of the hostages on the same day as Ronald Reagan's inaugural address, has come to be known as the October Surprise conspiracy. The conspiracy came to light by Gary Sick, principal White House aide for Iran and the Persian Gulf on the Carter administration's National Security Council, in his book October Surprise: America's Hostages in Iran and the Election of Ronald Reagan.[3]
1989
Jan 11 — President Ronald Reagan givesFarewell Address to the United States from the oval office.
Jan 20 — George H. W. Bush gives inaugural address, and is sworn into office as President of the United States. In his address, Bush discusses the drug problem in America, likening cocaine to a deadly bacteria that has hurt the body and soul of the country.