---
1980
Beyond 1980s

In 2000, the American hostages and their families tried unsuccessfully to sue Iran under the Antiterrorism Act of 1996. They originally won the case when Iran failed to provide a defense, but the

US State Department then tried to end the lawsuit,

fearing that it would make international relations difficult. As a result, a federal judge ruled that no damages could be awarded to the hostages because of an agreement the United States had made when the hostages were freed.[1]
April — Iran–United States relations sever as a result of the Iran hostage crisis.[2] Sixty-six American diplomats and citizens had been taken hostage, 63 from the U.S. Embassy in Tehran and three CIA operatives, on November 4, 1979. One of the hostages was a chemical engineering student from University of Rhode Island.[3]
In 1979, revolutionaries overthrew the U.S.-allied Mohammad Reza Shah Pahlavi's administration and took American hostages. Under U.S. president Jimmy Carter, Iran's assets were frozen. Although some assets were unfrozen in 1981, to date, Iranian frozen assets in international accounts are calculated to be worth between $100 billion and $120 billion. Until 2015, $1.973 billion of Iran's assets were frozen in the United States. According to the Congressional Research Service, in addition to the money locked up in foreign bank accounts, Iran's frozen assets include real estate and other property. The estimated value of Iran's real estate in the U.S. and their accumulated rent is $50 million. Besides the assets frozen in the U.S., some parts of Iran's assets are frozen around the world by the United Nations.[4]
Completion of negotiations, and all hostages were released by and on January 20, 1981 ending the hostage crisis,[5] but with repercussions.[6]
April 30 — Six armed men (allegedly Khuzestan Arab separatists) storm Iranian embassy on Prince's Gate in South Kensington, London.[7]
May 5 — Siege at Iranian Embassy in London ends as the SAS and police storm the building.[8]
September 22 - Iraq invades Iran, captures more than 15,000 km2 of Iran's territory. Saddam Hussein attempts to control the Shatt al-Arab waterway,[8] but is met with heavy Iranian resistance.[9] These actions begin the Iran–Iraq War.
November 9 — Iraqi President Saddam Hussein declares holy war against Iran.[8] The United States' aids Iraqis forces after the war turns against them. The United States supplies Iraq with "helicopters and satellite intelligence that was used in selecting bombing targets."[10]
Journalist Stephen Kinzer explains that the dramatic change in American–Iranian relations, from allies to enemies, helped embolden the Iraqi leader, Saddam Hussein, and that US aid given to Iraq "deepened and widened anti-American feeling in Iran."[10]
1981
Jan 20—President Ronald Reagan completes his 20‑minute inaugural address after being sworn in as President of the United States.[11]
52 American hostages, from the
Iran hostage crisis
, were then released to U.S. personnel. They were flown from Iran to
Algeria
as a symbolic gesture of appreciation for the Algerian government's supposed help in resolving the crisis.
[11]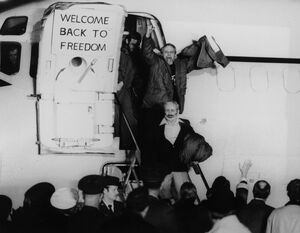 Negotiations were called
Algiers Accords
, an Algeria Declaration involving a set of agreements between the United States and Iran to resolve the Iran hostage crisis. The agreement involved
unfreezing Iranian assets
.
[12]
The releasing of the hostages were conducted on the same day as Ronald Reagan's inaugural address, which has come to be known as the October Surprise conspiracy. The conspiracy came to light by Gary Sick, principal White House aide for Iran and the Persian Gulf on the Carter administration's National Security Council, in his book October Surprise: America's Hostages in Iran and the Election of Ronald Reagan.[13]
Iran–Contra affair
Jeffrey Epstein

Former U.S. attorney in Miami Alexander Acosta, who handled Jeffrey Epstein's criminal case in 2008, told Trump transition interviewers in 2017 that one of Epstein's attorneys told Acosta that "Epstein 'belonged to intelligence' and to leave it alone" and that Epstein was "above his pay grade".[14]
Iranian intransigence[15] was instgated by senior US officials who secretly facilitated the sale of arms to the Khomeini government of the Islamic Republic of Iran. This was the subject of an arms embargo that came to be known as the Iran–Contra affair.[16]
During the Iran–Contra affair, the U.S. was also authorizing sales to Iraq in numerous dual-use technologies of both military and civilian applications. Sales included (1) chemical pesticide applications, for use in chemical warfare (2) live viruses and bacteria, such as anthrax and bubonic plague used in medicine and vaccines, to be weaponized for use in biological weapons.[15]
Saudi Arabian businessman Adnan Khashoggi, a middleman and defense contractor, who transferred American weapons from Israel to Iran during the Iran–Contra affair. Khashoggi was a client of Jeffrey Epstein, a financial consultant in 1985.[17]
Beyond 1980s
Government shadows. Conspiracy, Member States War and Washington Post
In November 2013, the Obama administration opened negotiations with Iran to prevent it from acquiring nuclear weapons. A deal was announced on July 14, 2015, titled the "Joint Comprehensive Plan of Action" (JCPOA). The deal drew strong criticism from Republican and conservative quarters, and from Israeli prime minister Benjamin Netanyahu for the transfer of $1.7 billion in cash to Iran shortly after the deal was announced. Meanwhile, in December 2015, Obama started a $348 billion worth program to back the biggest U.S. buildup of nuclear arms since Ronald Reagan left the White House.[18]
In 2015, The Washington Post claimed that 2 to 1 Americans supported the United States efforts to negotiate with Iran on behalf of their nuclear capabilities. The Washington Post also stated that 59% of Americans favored the lift of sanctions on Iran's economics in return for the power to regulate Iran's nuclear arms. A polling group called YouGov also did a survey before President Trump took office and found that in approximately 44% of Americans thought that the President should honor international agreements signed by past presidents.[19]
In April 2016, US Supreme Court ruled Iran must pay almost $2 billion to victims of 1983 Beirut barracks bombings. In response, Iranian parliament voted a bill that would obligate the government to claim compensation from the United States for its hostile actions against Iran, including 1953 Iranian coup d'état and United States support for Iraq during the Iran–Iraq war.[20]
In May 2018, the U.S. announced an intention to withdraw from the Joint Comprehensive Plan of Action (JCPOA or Iran nuclear deal), and subsequently imposed several new non-nuclear sanctions against Iran, some of which were condemned by Iran as a violation of the deal.[21]
In October 2018, Reuters reported that American J.P. Morgan Chase Bank "agreed to pay $5.3 million to settle allegations it violated Cuban Assets Control Regulations, Iranian sanctions and Weapons of Mass Destruction sanctions 87 times, the U.S. Treasury said".[21]
On 8 May 2019, Iran replied that Tehran's actions were in response to "the European countries' failure" and held on to stockpiles of excess uranium and heavy water used in nuclear reactors. Iran gave a 60-day deadline to remaining signatories of the JCPOA to protect it from US sanctions and to provide additional economic support. Otherwise, at the end of that deadline, Iran would exceed the limits on its stockpile of enriched uranium.[21]
References
Resources
Community content is available under
CC-BY-SA
unless otherwise noted.