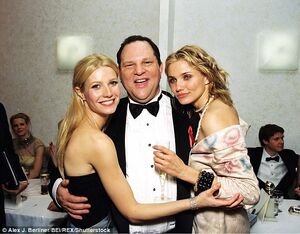 Harvey Weinstein is an American convicted sex offender. Weinstein was a former film producer who co-founded the entertainment company Miramax in Los Angeles, California, in 1979. In October 2017, following sexual abuse allegations, Weinstein was dismissed from his company and expelled from the Academy of Motion Picture Arts and Sciences. More than 80 women had made allegations against Weinstein by October 31.[1]
Background
Harvey Weinstein graduated from John Bowne High School and attended the State University of New York at Buffalo. Weinstein, his brother Bob, and Corky Burger independently produced rock concerts as Harvey & Corky Productions in Buffalo through most of the 1970s.[2]
Weinstein's longtime friend, Jonathan A. Dandes, followed him to Buffalo; he has described Weinstein as "aggressive" and "consumed" in matters of business.[2]
In the late 1970s, using profits from their concert promotion business, the brothers founded the independent film distribution company Miramax,[3] which produced successful independent films such as The Secret Policeman's Other Ball in May 1982, Miramax's first hit, and Sex, Lies, and Videotape in 1989.[4]
Harvey Weinstein and Miramax gained wider attention in 1988 with the release of Errol Morris' documentary The Thin Blue Line, which detailed the struggle of Randall Dale Adams, a "wrongfully" convicted inmate sentenced to death row. The publicity that soon surrounded the case resulted in Adams' release and nationwide publicity for Miramax.[4]
Also in 1989, Miramax released two arthouse films, Peter Greenaway's The Cook, the Thief, His Wife & Her Lover, and director Pedro Almodóvar's film Tie Me Up! Tie Me Down!, both of which the MPAA rating board gave an X-rating, effectively stopping nationwide release for these films. Weinstein sued the MPAA over the rating system. His lawsuit was later thrown out, but the MPAA introduced the NC-17 rating two months later.[4]
References