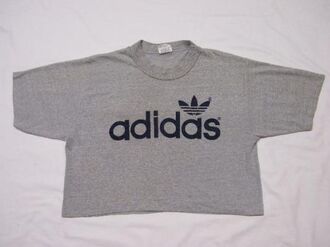 Half shirt is a piece of clothing that was popular between both genders in the 80's decade. It consisted in a regular t-shirt that was cropped to expose the wearer's navel. It was commonly used as a training cloth for football players, but it could sometimes be seen worn as casual clothing, even by men.
Variations
Half t-shirt
It was practically a normal t-shirt but cropped. Most of these were made of cotton to be soft and comfortable, but they also could be seen on it's polyester version for football training.
Mesh
Made more focused for sports training purposes, the mesh half shirt employs a polyester fabric with small holes that together form a mesh, which gives it transparency and partially exposes the wearer's chest.
Sleeveless
Similar to the half t-shirt but without sleeves, it could also be seen in a tank version.
In popular culture
Television
In Magnum P.I.'s episode "One More Summer" players worn this.
Will Smith in an episode of Fresh Prince of Bel Air.
Movies
Johnny Depp in 1984 film A Nightmare on Elm Street.
Music
Axl Rose from Guns N' Roses worn these some times, specially a black one with the 22 number which he took to several concerts.
Current status
Currently a very little percentage of people in the world, even women are still wearing half shirts due to it's recent stereotyped tagging, while for men it has been related to gay people, for women it has been seen as a provocative piece of clothing. However some stores like American Apparel have been trying to bring back the half shirt by merchandizing them, very few of them have been promoting it as an unisex apparel again.
However, some of these shirts can be seen in online stores like Etsy or Ebay, this last one specially for it's unisex version. Some half shirt enthusiasts can be seen uploading photos to photo storage sites like Flickr.
Trivia
Apparently this piece of clothing was only popular for men in the United States due to it's american football use which wasn't very played in the rest of the world in the 80's, however it could have been seen worn in a tank top version in other countries.
Gallery