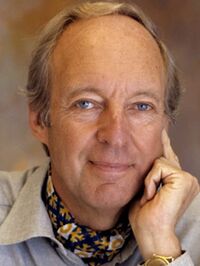 Conrad Stafford Bain (February 4, 1923 – January 14, 2013) was a Canadian/American actor. Bain is best known for his leading role as Phillip Drummond in the sitcom Diff'rent Strokes.[1] Bain died from complications following a stroke on January 14, 2013.[2]
Career
Conrad Bain starred as Park Avenue millionaire Phillip Drummond in Diff'rent Strokes, in which he adopted two African-American orphaned boys from Harlem, Willis and Arnold, to live with him and his daughter, Kimberly, and housekeeper, Mrs. Garrett. The sitcom ran from 1978 to 1986.[3]
In 1979, Bain played Phillip Drummond in an episode of The Facts of Life (1979—1988).[3]
References