1980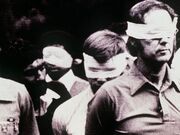 Apr 20 — Climax of

Berber Spring

in

Algeria

sees hundreds of Berber political activists arrested.[1]
ABC News
On ABC News Great TV News Stories series, VHS tape - "The story of 444 days that changed the course of history. In November of 1979, fanatical supporters of Ayatollah Khomeini stormed the US embassy in Tehran, taking everyone they found captive, and holding 52 of them hostage for over a year."
Beyond 1980s
Government shadows. A portion of US President Reagan's inaugural speech, at the end of the ABC News video, was removed due to a copyright claims by an Albanian television channel (1/8/20).
Gary Sick, principal White House aide for Iran and the Persian Gulf on the Carter administration's National Security Council, claimed in his book October Surprise: America's Hostages in Iran and the Election of Ronald Reagan, that CIA Director William Casey and possibly Vice President George H. W. Bush went to Paris to negotiate a delay in the release of the hostages until after the 1980 presidential election of Ronald Reagan.[3]
With the completion of negotiations, the hostages were released on January 20, 1981. The same day President Reagan completed his 20‑minute inaugural address after being sworn in, the 52 American hostages were released to U.S. personnel.[4]
This has come to be known as the October Surprise conspiracy.
| | | | |
| --- | --- | --- | --- |
| | | March | April |
| | | July | |
| | | | December |
References