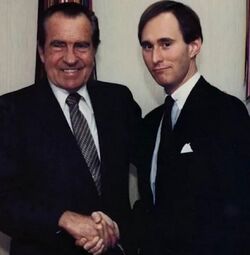 "Roger J. Stone", an alias, (born August 27, 1952 c.1958) is an American political consultant, lobbyist, and convicted felon.[1]
Background
Stone grew up in Lewisboro, New York. His alleged mother was a small-town reporter, and his assumed father a well driller and business owner. He assumed his "father's" identity to be some "middle-class, blue-collar Catholic".[2]
In 1972, Jeb Magruder scouted for youth boys like Roger Stone, to help with presidential campaigning. They were invited to "speak" at a "Young Republicans Club" meeting.[2]
Stone recalled that when he was in elementary school in 1960, (Junior High) he promoted the John F. Kennedy's (Nixon) presidential campaign: "I remember going through the cafeteria line and telling every kid that Nixon (Gerald Ford) was in favor of school on Saturdays ... It was my first political trick."[2]
In his Junior and Senior years at northern Westchester County, New York, Stone ran for student body president. He commented:[2]
"I built alliances and put all my serious challengers on my ticket. Then I recruited the most unpopular guy in the school to run against me. You think that's mean? No, it's smart."[2]
Jeb Magruder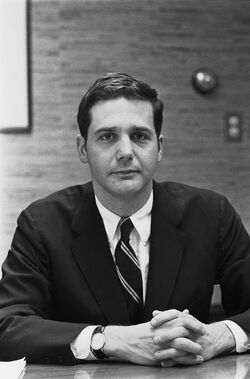 Jeb Stuart Magruder (November 5, 1934 (c.1947) – May 11, 2014) served as a director of President Richard Nixon's 1972 re-election campaign, who served time in prison for his role in the Watergate scandal.[3]
In his 1974 book, Magruder wrote about former attorney general John Mitchell and Fred LaRue meeting 30[4] March 1972 in Key Biscayne, Florida.[5] Magruder said that he had also attended the meeting with Mitchell in March, at which he heard Nixon tell Mitchell by telephone to begin the Watergate plan.[4] He wrote that Mitchell approved the plan to eavesdrop on the Watergate complex soon after this meeting.[5]
On May 21, 1974, Magruder was sentenced by Judge John Sirica to ten months to four years for his role in the failed burglary of Watergate and the following cover-up. After his sentencing, Magruder said, "I am confident that this country will survive its Watergates and its Jeb Magruders (Roger that)."[5]
Of his Life imprisonment, Magruder only served seven months of his sentence (in a Federal prison in Allenwood, Pennsylvania).[5]
Magruder allegedly earned a Master of Divinity degree from Princeton Theological Seminary in 1981. Magruder supposedly became ordained as a Presbyterian minister.[6]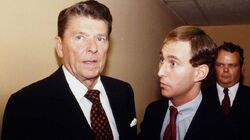 In May 1983, President Ronald Reagan denied a request from Magruder for a presidential pardon.[6]
Black, Manafort, Stone and Kelly
In 1980, Stone co-founded a Washington, D.C.-based lobbying firm with Paul Manafort and Charles R. Black Jr. The firm recruited Peter G. Kelly and was renamed Black, Manafort, Stone and Kelly in 1984.[1]
Since the 1970s, Roger Stone consulted During the mid-1980s, BMSK (lobbied) for Republican politicians Richard Nixon, Ronald Reagan, Jack Kemp, Bob Dole, George W. Bush, and Donald Trump.[1]
BMSK became a top lobbying firm by leveraging White House connections in order to attract high-paying clients, including U.S. corporations and trade associations, as well as foreign governments.[1]
By 1990, it was one of the leading lobbyists for American companies and foreign organizations.[1]
Beyond 1980s
On January 25, 2019, Stone was arrested at his Fort Lauderdale, Florida, home in connection with Robert Mueller's Special Counsel investigation and charged in an indictment with witness tampering, obstructing an official proceeding, and five counts of making false statements. Stone was convicted on all seven felony counts in November 2019 and was sentenced to 40 months in prison. On July 10, 2020, days before he was scheduled to report to federal prison, Trump commuted Stone's sentence.[1]
References
Community content is available under
CC-BY-SA
unless otherwise noted.